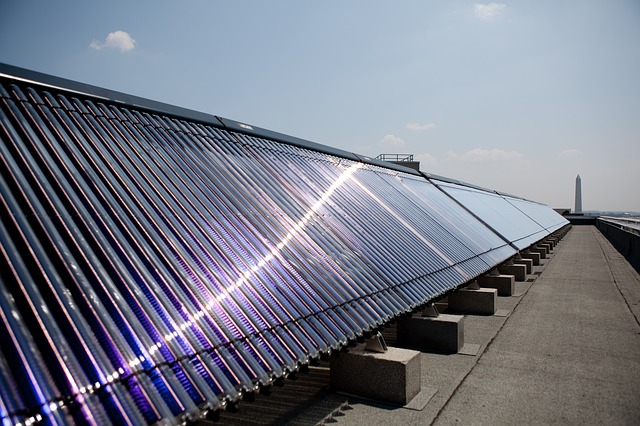 Solar Thermal Maintenance Service
As with Solar PV, Thermal panels do not require high maintenance. However it is strongly recommended that they should be checked by an expert at least once a year.
By the customer occasionally checking some aspects they may be able to pre-empt a break down .
Leaks are normally easy to spot as the fluid contains antifreeze and has a rather strong smell, an engineer will need to be called.
The only moving part is the pump, this should run smoothly and quietly, these can be easily and quickly replaced by an engineer.
Another indicator that the customer needs to contact a professional installer is if on a sunny day you find the water tank is still cold. (The exception being if you have recently run a major amount of water off for a bath etc.).
Another check quickly carried out by the customer is, if the pump is running but the pipes feel cold. This could indicate an air lock and will need the attention of a qualified person to correct.
The pressure in the system can vary between 0.5 bar and 4 bar. Should the pressure go below 0.5 and stay there an engineer needs to be called. If it goes to Zero the system needs to be turned off.
The antifreeze in the system is able to withstand temperatures of -28C and as England has never recorded a temperature that low it is safe to say that a solar thermal system is frost protected. However the antifreeze will degrade over time and a yearly inspection will check on its strength.
Low Carbon Installations will undertake a yearly inspection of your system on a maintenance contract or a one off inspection. We will tailor a contract in line with the size of your installation, be it Domestic or Commercial and discuss any repairs or replacement costs with you before undertaking any remedial work.
Please be assured we will provide a professional and committed maintenance service for our installations and any systems fitted by other installers.

Important maintenance checks
Commercial and Domestic, what we look for during a maintenance check.
That there are no leaks from all the seals and glands throughout the whole system
That panels are showing no signs of damage and the seals are weather tight.
That air has not leaked into the system
That air eliminators, non-return, solenoid, and motorised valves are operating correctly
That volumes are correct
That electrical controls are operating as recommended by manufacturer
That the pump is operating with quiet efficiency
That insulation is in place and up to standard
That all areas which should be covered are not exposed
That the system is free of damp spots and condensation
That the roof fixings are firm and the roof is undamaged.
That the weathering is properly protecting the structure
That the collector glazing is clean
That there is no damage to the glazing
That there is no evidence of serious corrosion
That paint work is sound
That sensor devices are in place and firmly attached
That the heat transfer fluid has the correct strength and quantity.

Projects
This pretty little bungalow in the Fylde looks just as pretty as ever. Situated on...

The new purpose built £80 million railway depot near Doncaster which houses the repair...

LED Lighting The client required the replacement of standard light fittings throughout its public areas,...

Two new builds one in Manchester and the other in Wrexham required an array...