Solar Photovoltaic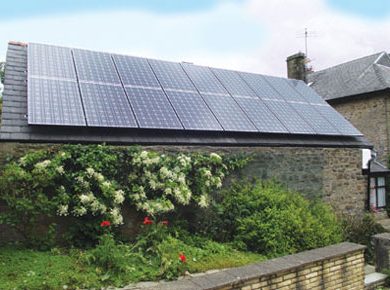 Solar Photovoltaic panels transform the light of the sun into electricity.
It is most common for Solar Photovoltaic (PV) panels to be mounted on roofs. The orientation of the roof is very important, the longer the sun is hitting the panels the more electricity they will produce.
South facing roofs are the most efficient, though East West roofs can produce a considerable amount of power. The more you produce the smaller your energy bills will be. Your household's carbon foot print will also be greatly reduced.
The power in the form of a direct current is passed through an inverter to give you AC current, it then is fed directly into your home supply and any excess goes into the national grid, for which you will receive a payment from your supplier.
Other issues that can affect the performance of Solar PV are, shading from trees or buildings etc.
Our fully trained and qualified engineers will complete a full inspection of the building where the system is to be installed. The strength and integrity of the roof structure will be assessed and any issues that might impact on the productivity of the installation will be taken into account. The engineer will consider if the roof area is of sufficient square footage to accommodate the correct number of panels to meet the property owner's needs.

Design & Install
Low Carbon Installations have undertaken numerous solar pv installations, for both commercial and domestic clients. From the first survey stage to the final commissioning, we will design and supply an installation that is sleek and tailor-made for the property, using proven quality materials.
Projects
This pretty little bungalow in the Fylde looks just as pretty as ever. Situated on...

The new purpose built £80 million railway depot near Doncaster which houses the repair...

LED Lighting The client required the replacement of standard light fittings throughout its public areas,...

Two new builds one in Manchester and the other in Wrexham required an array...