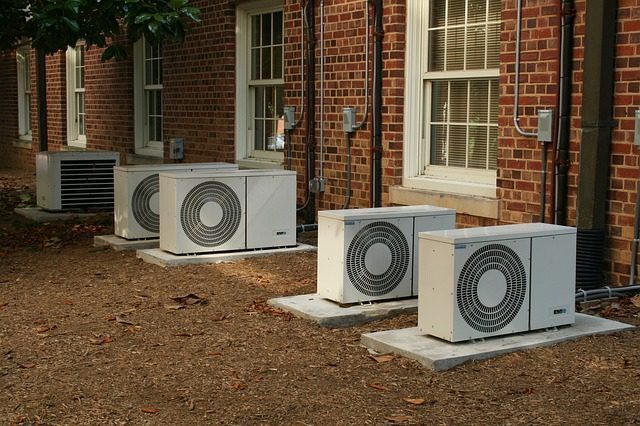 Air and Ground Source Heat Pumps

Air and ground source heat pumps extract the natural and renewable heat from the air, or ground.
There is a trade off in that heat pumps require electricity to run, but the amount of heat they produce to provide hot water, heat radiators or underfloor heating far out ways this in terms of reduced energy bills.
Heat pumps deliver heat at a lower temperature and so in winter may need to be constantly turned on. In their favour however, is the fact that radiators will be less likely to become seriously hot to the touch, a worry in every house hold with young or elderly occupants.
Ground source heat pumps are made up of a loop of pipe which is buried vertically or horizontally in the earth. A fluid containing antifreeze circulates through the pipes absorbing heat from the ground and transmits it via a heat exchanger to the heat pump. The length of ground pipes depends on the requirements of your home and the amount of heat you require.
Air Source heat pumps are easier to install than ground source, mainly comprising of a cabinet like structure on the outside of a building, preferably on a sunny wall with plenty of space around them. They can extract heat from the air even at temperatures as low as -15 degrees centigrade.

Design and Install
We at Low Carbon Installations Ltd are committed to providing a service that fullfills the customers expectations. Heat pumps require experienced engineers to assess the practicalities of any installation. Ground Source heat pumps by definition require that pipes are buried under the earth. The needs of the property will define the size of the installation required. The area available to lay the pipes will limit the size of the installation. Our experienced engineers will be able to advise if your property will accommodate the system you wish to install or if an alternative will be of more benefit. Our engineers have been trained to deal with the complicated equipment and have the technical knowledge required for this type of installation
Projects
This pretty little bungalow in the Fylde looks just as pretty as ever. Situated on...

The new purpose built £80 million railway depot near Doncaster which houses the repair...

LED Lighting The client required the replacement of standard light fittings throughout its public areas,...

Two new builds one in Manchester and the other in Wrexham required an array...