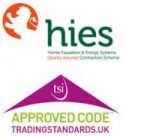 The Home Insulation & Energy Systems Contractors Scheme
The scheme aims to provide consumers with the highest confidence in the installer's ability to design supply and install renewable energy products.
HIES insist that there members adhere to a strict code of practise.
Should an HIES member fall short of these ideals the consumer will have free access to mediation, independent inspection, and an independent ombudsman.