Carbon Dioxide emissions fall in the UK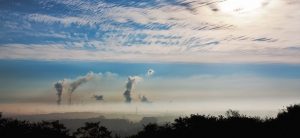 Carbon Dioxide emissions are on the way down.
It is believed that the emission of carbon dioxide in the UK has fallen to its lowest level since the late eighteen hundreds.
Mostly due to the reduction of coal as a fuel, with the closure of three coal fired power stations in 2016, cheaper gas, lower demand for energy and renewable energy systems. The final two obviously having an effect on each other.
However the news is not all looking good, the increase in the use of gas has increased the level of carbon it produces. It is also thought that emissions from oil has slightly increased due to the lower fuel prices and people travelling more often.
But on the grander scale of things it's getting better overall.
Consumers, commercial and domestic alike, have done their bit to lower the demand for fossil fuel energy by installing renewable energy systems.
Even if a home is not suitable for solar panels or other renewable energy systems, just updating and having your boiler serviced will cut down the amount of energy you use.
Renewable energy systems can be compromised by lack of servicing and cleaning.
Being concerned about the quality of air we breathe is not a new idea the renewable energy industry has been doing something about it for years.