Chimney fires. Don't become a government statistic.
5000 Chimney Fires Each Year is not a good thing.
Solid Fuel Burn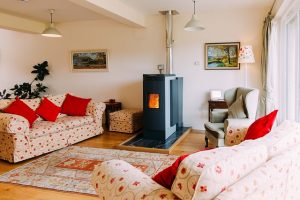 ing Systems. Avoid being a statistic
Chimneys need sweeping once a year if you burn Smokeless Fuels, Oil, or Gas. Bituminous Coal twice a year and every 3 months for wood.
The manufacturer's instructions on which fuels to use in their appliances should always be followed. Some appliances are wood burners only and others can burn various fuels. Burning the wrong type of fuel can cause a build-up of tar in the flue which in turn can cause a fire.
When wood that contains 20% moisture or less is burnt it will produce less ash and tar particles.
Combustible materials such as wood should not be stored in close proximity to the fuel burner. The manufacturer's instructions will indicate the correct clearance advisable. Do not over load the burner with fuel and do not leave the fire door open once lit. Burning embers falling onto a flammable surface could cause a serious fire.
It is important that burners are installed and maintained by a trained professional.
Be warm and keep safe.